***and don't get all excited and stuff cause I am NOT giving away my bike!
With the help of a fabulous blog designer, Forever*Cottage recently got a major makeover (although I am thinking the new look really is more of a
make-under
given that she is quite simplified and sports a much cleaner look). Jenna from
qadesigns
was fabulous to work with and really has a fresh aesthetic that you just don't see over and over again out here in blogland.
When thinking about my logo, I really wanted something that represented the cottage lifestyle that I live in our little lake neighborhood. The bike pictured above was my 40th birthday gift from my children! During the summer, that pink bike is my primary mode of transporation.....to the beach, out for ice cream, to the parks, restaurants, farmer's market, even trips to the grocery store.
In celebration of my new blog design, I wanted to giveaway a blog button - for
YOUR
blog designed by Jenna of qadesigns! I am sorry if you don't have a blog...I got nothing for ya! (now anyway!)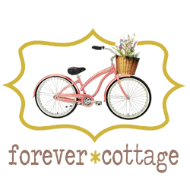 To enter, simply leave me a comment - you could even tell me what
your
logo would be and why! Yep, that's it. I will close the comments on Thursday morning and announce the winner.
Have a splendid day my friends!